New report shows XSEED students perform 32% better than non-XSEED peers in English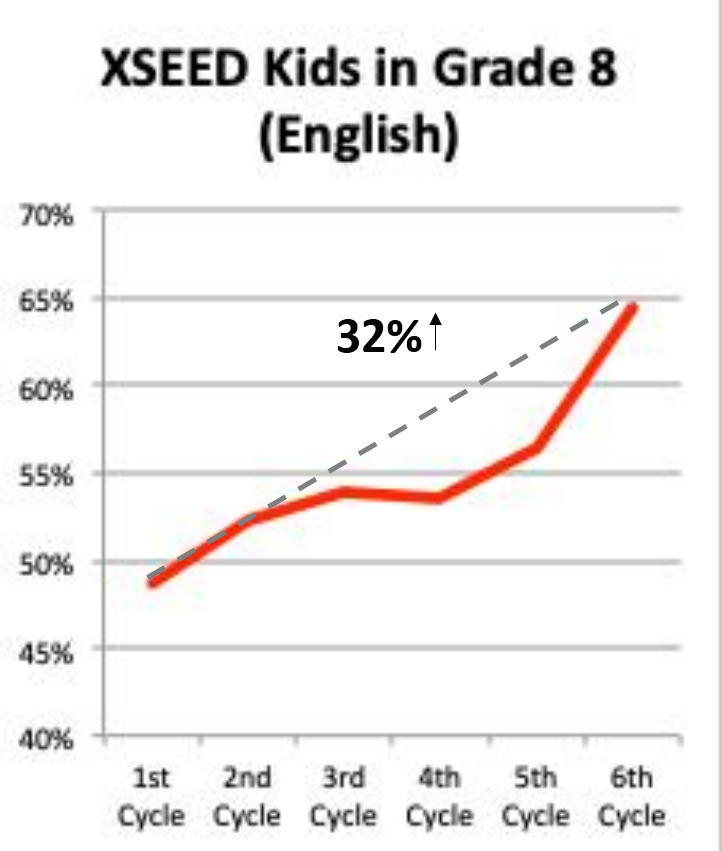 A recently conducted analysis of XSEED Learnometer results over the years has proved that students studying consistently with the XSEED curriculum develop significantly stronger communication and language skills as compared to their non XSEED peers. XSEED Learnometer test scores show that there is a year-on-year improvement in student performance which keeps growing with consistent XSEED usage in school. Students who begin studying with the XSEED curriculum in Grade 3 perform 32% better than their peers in English as they reach Grade 8. With the growing need for students to develop the skills of clear communication, developing original point of view, confidence and independent writing, this shows the solid and tangible impact a well-researched and structured experiential learning curriculum brings to a school.
The XSEED English curriculum, like other XSEED subjects,encourages students to engage with and participate in their learning more deeply. The curriculum includes higher order thinking questions, deeper engagement with characters and situations in a story, real life analogies of the story situations, independent reading time, open discussions in the classroom and encouragement to explore different formats of original writing like essays, letters and stories. As this gives students the confidence to develop their own understanding of a story, it builds original expression, critical thinking and solid communication skills. So, while the learnometer scores show the quantitative advantage of 32% increase in exam scores, the qualitative impact of learning consistently with XSEED is a stronger personality and confidence among students that not just manifests into higher marks, but makes them better prepared for higher education, 21st century careers and a thriving social life.
The ages of 3 to 13 constitute the formative years for children, where their minds are flexible, and their cognitive abilities are still taking shape. Children in these years can adapt to a new learning approach much more easily and can sustain its benefits for life. The Learnometer results prove that a child's learning development speeds up and grows more meaningfully when he/she is introduced to a skill-focused and application-based curriculum that encourages them to read, write, comprehend and express independently. This, when done consistently in every class, year after year, develops in them the confidence to form and express an original point of view, communicate clearly and effectively, and think critically and creatively.
We'd love to hear how students from your school have grown
with us. Please share your stories with us at gazette@xseededucation.com.